June 2016 Recap
Light Up The Night never stops! June has been another fun-filled month and while Summer is seen as "slow season," we've been lucky enough to keep up the pace when it comes to the business! Here's a highlight of some of our events this past month!
Event of the Month: World Vape Expo & Vapor Life
World Vape Expo, the largest vapor and e-cigarette expo in South Florida, blew everyone away at the Miami Beach Convention Center over a weekend.With hundreds of vendors and 1,000's of attendees, marketing and standing out were pretty important! That's where LUTN came in. With 4 of our LED Robots in tow we headed out to do what our clients trusted us to do for both World Vapor Expo and Vapor Life. While 1 of our robots, black & green suit, hung out at the Vapor Life booth with beautiful ladies, the other 3 were strapped with with chest tablets that showcased all the sponsors on a continuous reel while they made there way through the convention. Our marketing tactics through entertainment have been quite popular for corporate events!
It was a pleasure working with both owners and we were happy to have done our jobs while still having a blast! Until the next expo or conference...
Other Events:
Light Up The Block: One Year Anniversary
LUTN celebrated the one year anniversary of LUTB this past month! We had a big show with our LED Robots, DJ & Production and other features including free beer, a bounce house, locacl vendors, delicious food trucks and a really big car show! Not to mention we're surrounded by MASS District so there were art galleries, local artists and other amenities near us for people to enjoy! It was our biggest crowd to date and we're ready to do it again. You can check out more coverage of our biggest block party yet by New Times Broward here! Missed it? We'll be back Saturday, July 30th! Check out our Facebook event for more details.
Funky Buddha Brewery's 3 Year Anniversary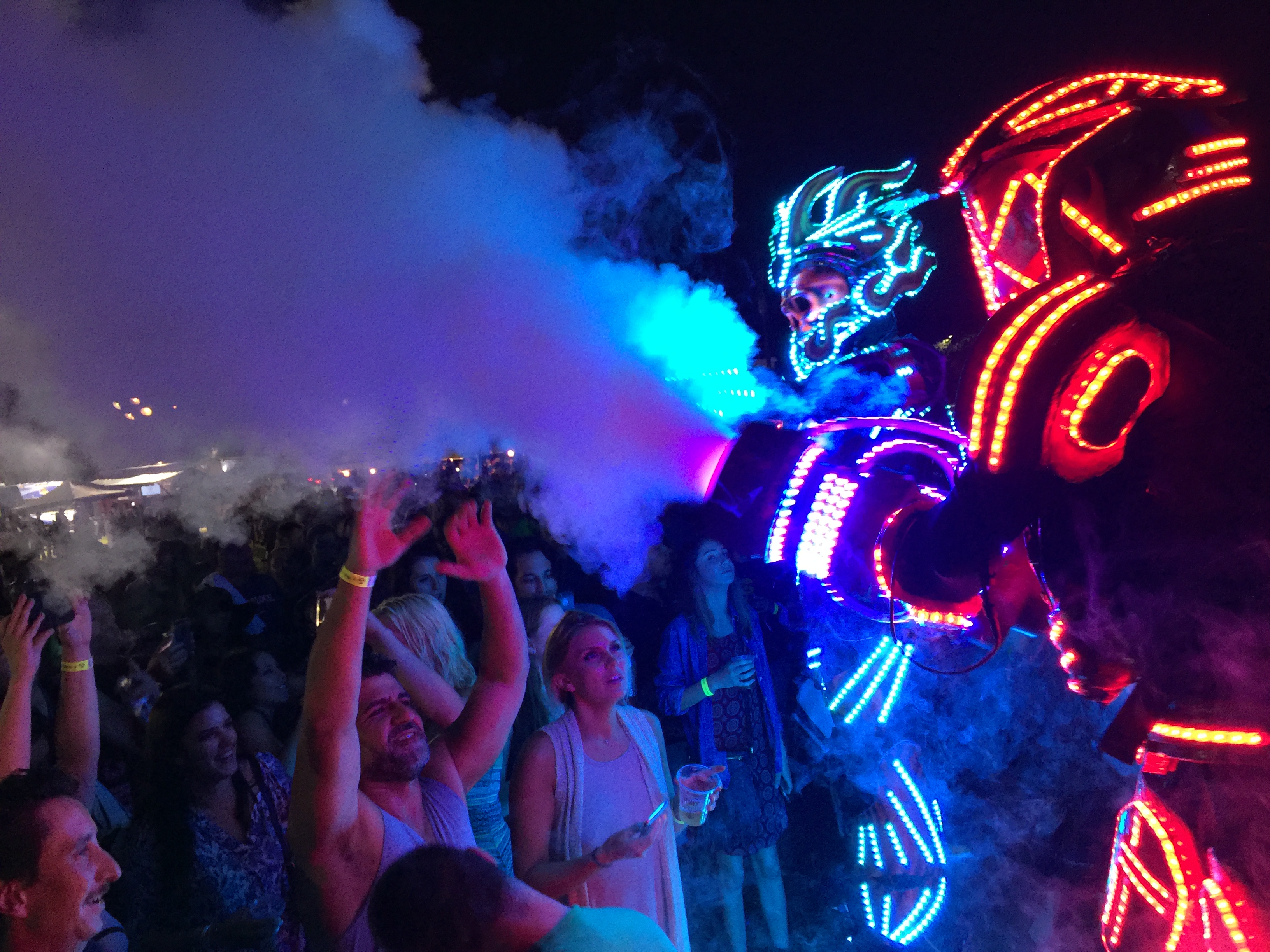 Funky Buddha Brewery was celebrating there 3 year anniversary with a big party at the Jaco Pastorius Park in Oakland which included food trucks, games, local and big time vendors like Yelp!, live bands on a stage and of course...A LOT of beers on tap. Our marketing team was there with a booth and some lit up gear having fun talking with event goers but the real entertainment came when our LED Robots came out at night to blast some CO2 on the hot attendees and danced to the live music. Want to see more? Click here and here! Excited to work with Funky Buddha again.
Salt 7's Anniversary Party
Salt 7 was also celebrating their anniversary and THEY WENT BIG...like out of planet Earth-big with their "Salt 7000" party which featured beautiful women competing for the title, an amazing brunch and drinks menu, a lot of SoFlo's hottest people and our LED Robots, LED drummer and LED Confetti Canon to help bring space to Salt 7. This is one of our FAVORITE SPOTS (and it's not just because they feed us!) but we really love doing their weekend events. Missed all the fun? You can catch a mix of our entertainment and production almost every Sunday at their brunch partied! You can seen an inside look at this party here, here and here!
Honorable Mentions:
Heron Heights Elementary Fundraiser (Parkland, FL): We were able to participate for Heron Heights annual party for the kids along with the Y-100 crew! We had so much fun while our LED Robot danced the night away with the kids. You can see us in action here!
Quinceanera at The Temple House (Miami Beach, FL): Our friends over at Temple House thought we'd be the perfect choice to liven up a fifteens party and it definitely worked out that way! Our two LED Robots kept the party going and the client was very happy. Can't wait to be back there.
Up & Comer Awards at The Venue (Fort Lauderdale, FL): The photo above says it all. The Up & Comer Awards which celebrates local businesses and people who have accomplished a lot in South Florida. We were honored to have 3 LED robots there to perform and entertain the masses.
Hora Loca at the Ritz Carlton (Key Biscayne, FL): What's a wedding without a big celebration? We had 4 of our LED Robots and our LED Drummer there at 4 AM to celebrate the Crazy Hour for this Venezuelan couple's nuptials. Thank you to The Elite Firm for always thinking of us when it comes to wedding entertainment.
Capones Nightclub "Alien Invasion" Entertainment (Fort Lauderdale, FL): We brought our duo, the LED Robot & LED Drummer to downtown Fort Lauderdale for some out-of-this-world fun for their "Alien Invasion"! We partied with the humanoids at Capone's, what else is there to say? Can't wait to get back!
What's a Rich Text element?
The rich text element allows you to create and format headings, paragraphs, blockquotes, images, and video all in one place instead of having to add and format them individually. Just double-click and easily create content.
Static and dynamic content editing
A rich text element can be used with static or dynamic content. For static content, just drop it into any page and begin editing. For dynamic content, add a rich text field to any collection and then connect a rich text element to that field in the settings panel. Voila!
How to customize formatting for each rich text
Headings, paragraphs, blockquotes, figures, images, and figure captions can all be styled after a class is added to the rich text element using the "When inside of" nested selector system.